If your bucket list dreams involve foreign travel, you need a passport and a GOES card. The passport is essential if you want to be able to re-enter the US, and the card takes away some of the hassle of coming home. I just got a new passport, and needed to update the profile for my GOES card with my new passport information.  That's the "Global Online Enrollment System" that I signed up for a few years ago.  I fretted when the new passport arrived and I realized that my new passport number is not the same as the one on my GOES profile. I thought it would be really difficult to make my enrollment match my passport.  I need not have worried. Nothing could be simpler than updating my profile with my new passport number.  And, I don't need to get a new card just because I have a new passport.
The process of updating your GOES card assumes that you already enrolled in the program.  In an earlier post, I tell you how to enroll.
Here's What You Do
1.    Log in at US Customs & Border Protection website.
2.    Click on "Update Documents" in the left panel.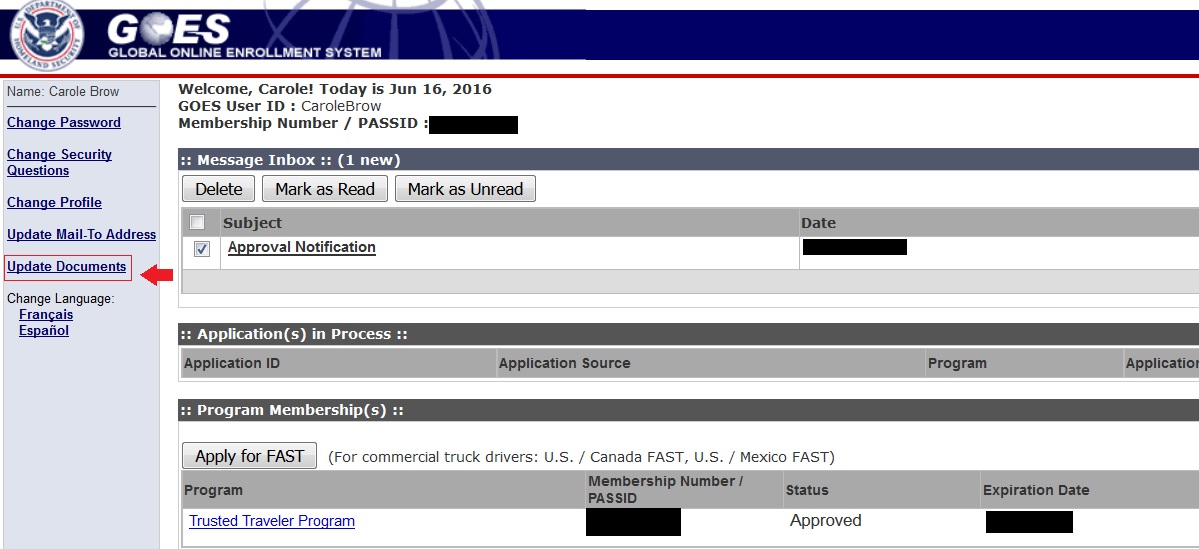 3.    You will see two sections, one for updating your passport and the other for updating your driver's license.  Click on the UPDATE link to open the sections for editing.  Make your changes then click NEXT to have the changes saved to your profile.  You are done.
4.    If you wish to order a new card, reflecting the changes, then you will need to order one through your GOES account and pay a $25 fee.  However, YOU DO NOT NEED A NEW CARD.  See the box (below).
Benefits of GOES
If you don't already have a GOES card and you are a US citizen and you expect to travel outside of the US, then you should consider getting one.  It allows you to skip the long customs and immigration lines when you come back to the US by air or sea.  Instead, you go up to a kiosk, scan your passport, and answer a few questions on the screen.  It takes no time at all to be out of the international arrivals hall and on your way. Plus, with GOES you are also entered into the TSA Precheck program.  That means that when you pass through the TSA security area, you don't have to take your gadgets out of your bags, don't have to take off your shoes, and don't have to stand in such long lines to go through the body scanner. Definitely worth it for the TSA Precheck alone! Click here for the official answer to how to update your GOES enrollment with your new passport info.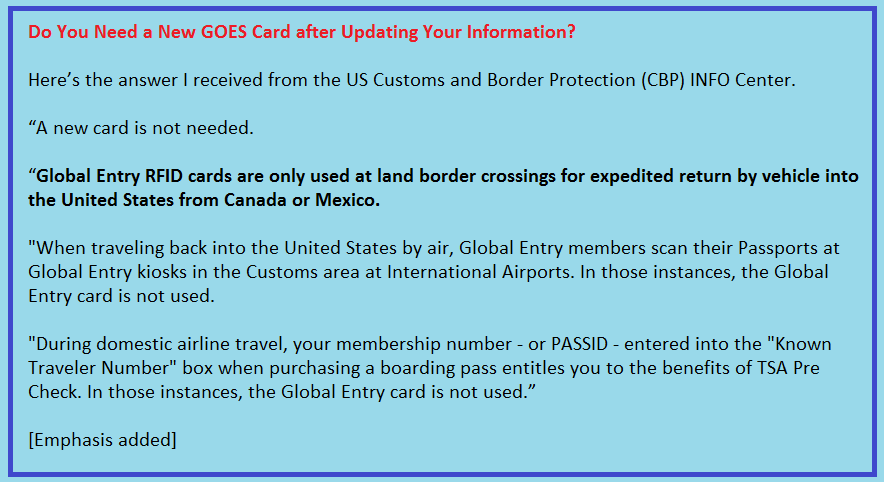 Sure thing, the most vital aspect that is considered while ordering medicines online is to make a right choice. What remedies exist? Sure thing most popular is Viagra. If you're concerned about sexual problem, you probably know about "Viagra review" and "can you use viagra with alcohol". Did somebody tell you about "sildenafil and alcohol"? A number websites describe it as "Viagra reviews". A long list of common drugs can lead to erectile malfunction, including some blood tension medicaments, pain remedies, and most of antidepressants. Certainly you need to take some side effects in consideration before purchasing the curing. With highly regarded web-site you get offers, that can also be redeemed at your local pharmacy with a valid prescription for this medicine.